I decided to make this page again and not just have some pictures on it. Note the information is about 5 years old or so. Though he does now appear in Mortal KOmbat Deceptions!
Smoke, unit LK-7T2 is a cyber ninja like Sektor and Cyrax built by the Lin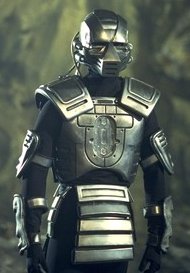 Kuei. He tried to escape the automation process with his firend Sub-Zero but was captured. He had his memories stripped away and is a mindless machine. When he finds himself being purpused by Shao Kahn's minions he realises that he still has a soul and that he must kill the Outworld invaders, when he defeats Kahn he saves the world but is stuck in his automated body.
He makes a brief appearance in one of the last episodes of Mortal Kombat: Conquest (there is a misty ninja and when I saw it at 3 in the morning I was really excited :) ). He also makes an appearance in Mortal Kombat: Annaliation where I first really saw him and though he has Sektor's missiles he still looks pretty damn neato!
Here are the cheat codes for Mortal Kombat Trilogy.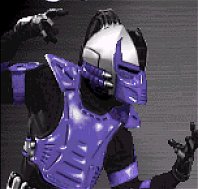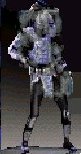 Cyber Smoke
Moves
Spear: B-B-LP
Teleport Punch: F-F-LK
Air Throw: BL (in air)
Invisiblity: (BL)-U-U-Right RN
Fatalities
Armageddon: U-U-F-D
Eat it: (RN+BL)D-D-F-U
Animatlity: D-F-F-BL (Bull)
Friendship: RN-RN-RN-HK
Bablitity: D-D-B-B-HK
Stage: F-D-D-LK
Combos
HP-HP-LK-HK-LP
HK-HK-LP
Brutality
HP-LK-LK-HK-BL-BL-LP-LP-HP-HP-BL-BL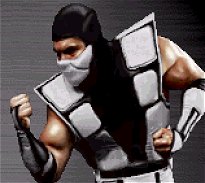 Human Smoke Cheats
Moves
Spear: B-B-LP
Teleport: QCB-HP
Air Throw: BL (in air)
Fatalities
Inviso Possession: F-F-B-RN
Teleproting Smash: RN-BL-RN-RN
Anaimality: F-F-B-HK (Porcipine)
Friendship: D-B-B-F-RN
Babality: D-B-B-F-RN
Stage: F-U-U-LP
Combos
HP-HP-D+LP
HP-HP-HK-B+HK
Brutality
HP-LK-LK-HK-BL-BL-LP-LP-HP-HP-BL